The History of InnovAGING
The Directory for Seniors and Their Families was founded in 1994 by Jon and Gail Goeller. The Goellers unexpectedly became the caregivers and decision makers for five aging relatives and realized they were not prepared for the responsibility. The Directory for Seniors and Their Families was born out of their frustrations and experiences, inspiring them to help others with the knowledge that they acquired.
Recognizing the tremendous value of the Directory for Seniors and Their Families, Lawton Printing Inc. formed a partnership with the Goellers in 1999, making it a Lawton Printing publication, and for a time expanded its scope into communities throughout Washington, Arizona, Idaho, Texas and Nevada under the name of Senior Living Strategies.
The Directory for Seniors and Their Families has grown and transformed and in the beginning of 2010 the name was changed to innovAGING Senior Resource Guide: A Guide to Aging in Today's World. Our vision is to make this Senior Resource Guide accessible to seniors, caregivers, family members, social service professionals, businesses, agencies and organizations as an essential tool in every day senior living in as many communities as possible.
innovAGING is designed to meet the needs of seniors while educating everyone involved with seniors. The Senior Resource Guide provides assistance with a multitude of challenges including, but not limited to, financial issues, insurance, elder law issues, housing options, medical assistance, home care and home support, social services, organizations that deal with senior health, and hobbies and clubs to assist in providing the best senior living possible. The comprehensive information provided includes local, regional and national resources allowing everyone who accesses the information the ability to find necessary resources to assist with everyday challenges that arise with aging issues.
Our Senior Resource Guides can be accessed in print form or online for all of the communities we serve. This website allows homebound seniors with computer access, as well as senior caregivers and families, to view the Senior Resource Guide in its entirety. This website also includes links to many different senior sites allowing us to provide vital resources to seniors, their families, caregivers and other persons needing this information to have it immediately available with the click of a mouse.
innovAGING Senior Resource Guide: A Guide to Aging in Today's World is YOUR resource and YOUR gateway to the community, which is why we invite and welcome your feedback. Please contact us with any questions or concerns about innovAGING. We would love to hear any comments, suggestions or new information that will improve innovAGING.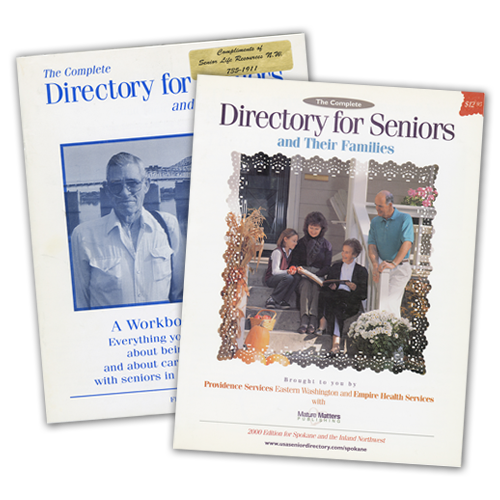 FROM THE ARCHIVES
Covers from previous publications in 1998 and 2000.
HAVE A SUGGESTION?