A Resource Guide for Seniors and their Families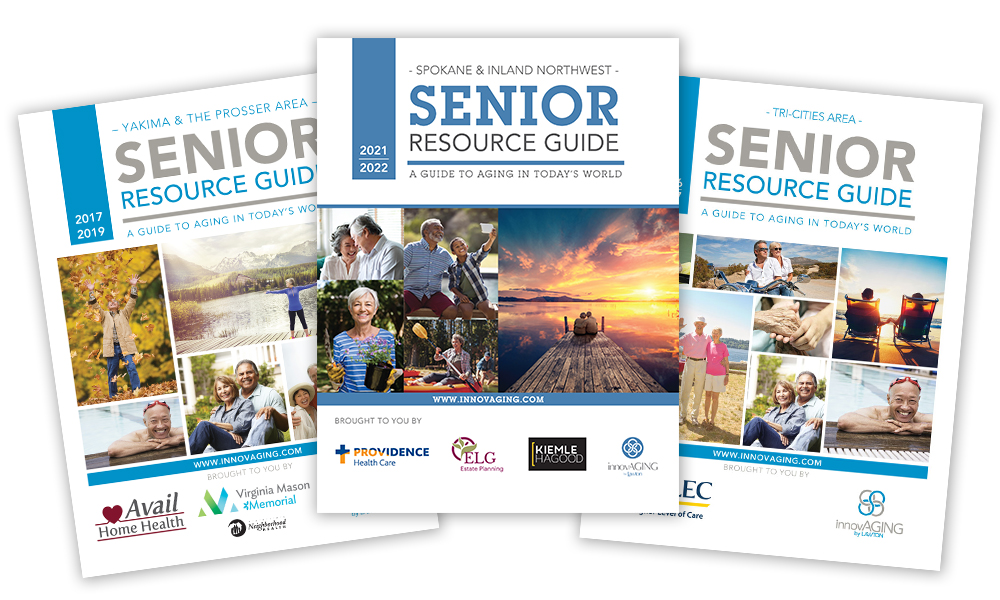 HOW TO USE OUR RESOURCE GUIDES
Whether you are anticipating the future or coping with a crisis now, InnovAGING's Senior Resource Guides can help you discover the help you need to take responsibility for challenges you might encounter as a senior, or as someone who is caring for an older person.
Our guides are a way for families to discover topics about which they can create meaningful dialogue. Getting older is a process in which every living person is engaged–it is a family and community matter–between spouses, partners, siblings, and the generations.
We currently have guides for the Spokane, Tri-Cities, and Yakima areas in Washington State.
Each of our guides has five information-filled chapters so you can find the resource you need.
CHAPTER 1 | TAKING CHARGE
Information for planning ahead, managing your financial, legal, and final planning and safety and security needs for the future.
CHAPTER 2 | ADDRESSING HOUSING OPTIONS
Descriptions of housing alternatives, guidelines for choosing housing, and a comprehensive list of choices that span the housing continuum for seniors.
CHAPTER 3 | FINDING HELP
Details health care and support services and programs including hospitals, medical resources, food and nutrition, outreach, support groups, transportation and more.
CHAPTER 4 | EXPLORING HEALTH ISSUES
Health index of illnesses and ailments combined with a listing of organizations and resources to offer assistance.
CHAPTER 5 | LIVING FULLY
Local, regional and national opportunities for seniors in educational, recreational, familial, cultural, high tech, and volunteer forums for life-expanding experiences.
The best thing to hold onto in life is each other.
When all the dust is settled and all the crowds are gone, the things that matter are faith, family, and friends.
Nobody can do everything, but everybody can do something.
Be happy for this moment. This moment is your life.
You may not control all the events that happen to you, but you decide not to be reduced by them.
One person caring about another represents life's greatest value.
It is health that is real wealth and not pieces of gold and silver.
Take charge of your life! The tides do not command the ship. The sailor does.
The sun at home warms better than the sun elsewhere.